COME VISIT US
2531 BRIARCLIFF ROAD NE, SUITE 109
ATLANTA, GA 30329
Atlanta Flat Roof Leak Repair
Flat roofs are designed to last up to 25 years. But with Atlanta's hot, humid, and windy climate, it's not uncommon for flat roofs or extension roofs to become damaged. Acting promptly to address damage and leaks not only saves you money in the long run but also ensures the longevity of your roof. That's where Bell Roofing steps in. Established in 1998, Bell Roofing's GAF Master Elite team has set the standard for flat roof leak repairs in Atlanta. Servicing residential and commercial properties, we pride ourselves on the unparalleled quality of our work.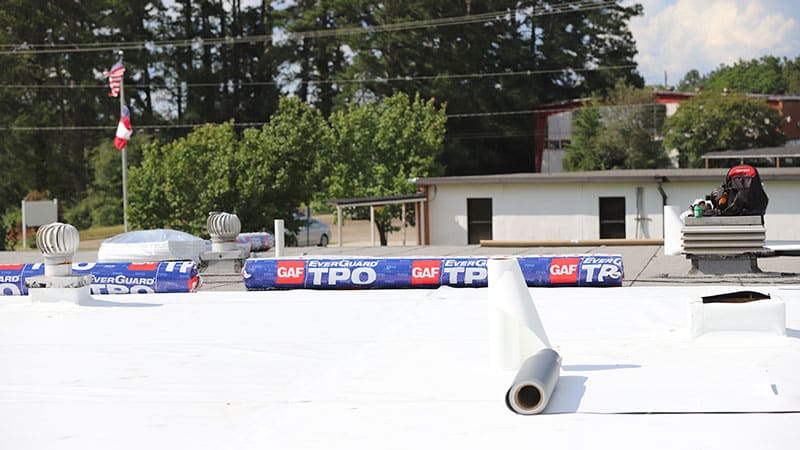 We'll Handle Your Flat Roof Leaks Repairs in Atlanta
Our dedicated Atlanta-based team takes comprehensive steps to restore your flat roof. We start the repair process by cleaning the roof surface, ensuring no debris like tree branches, leaves, or moss can cause further leak issues. Once clean, we dive deep into addressing the core issues. From damaged flashing and punctured membranes to leaks around vents or HVAC systems, our seasoned professionals have the know-how and tools to tackle all types of flat roof leak repairs in Atlanta. And regardless of whether you have a TPO, modified bitumen, or Bell Roof Coating System, rest assured we'll handle it with precision.
Before we consider a job complete, we meticulously inspect your roof to ensure everything is in perfect order. We focus especially on scuppers and downspouts, ensuring they are free from obstructions that could harm the condition of your roof. At Bell Roofing, our promise is straightforward: no surprise expenses, only genuine, necessary solutions. Our flat roof and extension roof leak repairs on your Atlanta property come with a one-year warranty, underscoring our commitment to quality.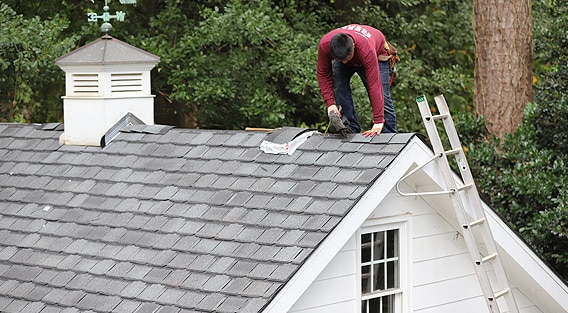 Bell Roofing has been a foremost leader in roofing repair and service throughout the greater Atlanta area since 1998. We've repaired and installed more than 8,000 roofs, and our customers have nothing but good things to say about our superior service, quality craftsmanship, and our honest and fair pricing. All our flat roof leak repair team in Atlanta is experienced, certified technicians who consistently update their training and their skill sets to literally keep themselves at the top of the industry.
Contact Bell Roofing Today
Your roof is a significant investment. Let Bell Roofing be your partner in maintaining its optimal condition with our expert Atlanta flat roof leak detection and repair services. Don't wait for minor damages to evolve into major expenses. Contact Bell Roofing today for a complimentary inspection, quote, or to book a flat roof leak repair service for your Atlanta home or business.
Our Location
Testimonials
I had an excellent experience with this company. They did a great work stopping a leak I had when we got heavy rain. There roofing crew fast and efficient, I would recommend this company to everyone. Everyone for sales to roofing crew very helpful to sure all of the process went well.

Bell Roofing was amazing to work with. They maintained a good schedule, communicated expectations clearly, and all work was top notch. We needed a full redecking, and all costs were clearly outlined. Even with the extra work and additional dumpster, the work was completed on time, and the property cleanup was impeccable.

My mother recently used these guys to get a new roof installed and she is so happy with their excellent work and the time and care that they spent working with her. The roof has totally revitalized her home and we are happy campers. Bell comes highly recommended by our family. Ten star service.