COME VISIT US
2531 BRIARCLIFF ROAD NE, SUITE 109
ATLANTA, GA 30329
Hail-Resistant Shingles in Atlanta

Adding hail-resistant shingles to your Atlanta home is important because severe weather conditions, like precipitation in the form of hailstones, can have a destructive impact on your property. These hailstones can cause significant damage to your roof, such as crushing and dislocating granules on traditional asphalt shingles, or even puncturing holes that expose your roof to water intrusion and subsequent problems like mold growth and wood rot.
---
It's crucial to take the necessary steps to mitigate any potential damage caused by hailstones during a storm to avoid expensive repairs and more significant problems down the line. When it comes to storm damage and shingle replacements in Atlanta, the GAF-certified professionals with Bell Roofing have every kind of solution you need to restore your roof and protect your home.
We install GAF Timberline® AS II Shingles, which carry the highest UL 2218 Class 4 impact resistance rating you can get in Hail-Resistant Shingles in the Atlanta market. These best-in-class shingles also protect your roof from wind damage and algae growth and come in a variety of colors to create the perfect aesthetic for the roof of your Atlanta home. Made with an SBS polymer-modified asphalt formula, the AS II shingles are highly flexible and significantly reduce the stress of hailstone impacts.
Trust Bell Roofing for Hail-Resistant Shingle Installation in Atlanta
Bell Roofing has been a trusted choice for roofing services in Atlanta since 1998. GAF is a leading manufacturer of roof shingles and waterproofing materials in the U.S., and they have certified Bell Roofing as a Master Elite Contractor, among the top 2% of all residential roofing contractors in North America. We have more than 8,000 successful roof installations in Atlanta and the greater metro area to our credit. Reach out to us and schedule your roof inspection and learn more about installing hail-resistant shingles for your Atlanta home.
Given the severity of the weather in this region, Bell Roofing is committed to ensuring that your home in Atlanta is equipped with hail-resistant shingles to withstand the potential risks associated with inclement weather conditions. We strongly suggest taking proactive measures to address potential hail damage on your Atlanta-based property before it worsens into a more significant problem.
Waiting to address potential damage can lead to costly repairs down the line and pose a risk to the structural integrity of your property. By addressing issues early on, you can prevent more extensive damage and maintain the safety and stability of your property. We are confident that our shingle replacement services in Atlanta will meet or exceed your expectations. Contact us today, because if it's Bell done, it's Bell guaranteed!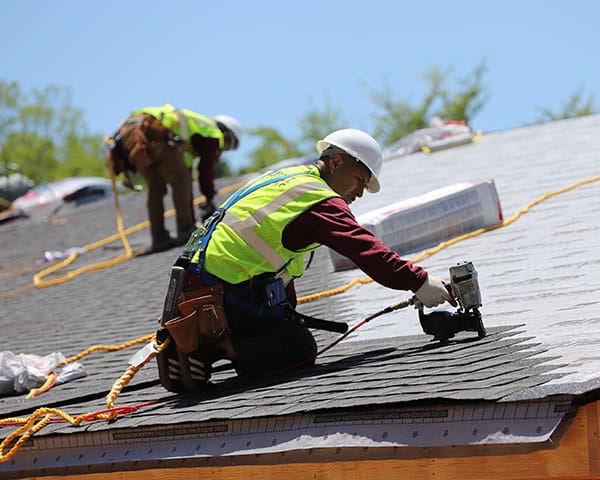 GET A FREE FLAT ROOF INSPECTION

PLEASE FILL THE FORM BELOW
A representative will contact you to set an appointment at your convenience. We provide free estimates with no high-pressure sales. A Bell Roofing technician will visit your property to check your roof.