COME VISIT US
2531 BRIARCLIFF ROAD NE, SUITE 109
ATLANTA, GA 30329
Residential Roof Repair Contractors in Cartersville, Georgia
When you see years of harsh weather damage taking its toll on your roof, you shouldn't have to go hunting for a ladder. You should call Bell Roofing for a roof inspection in Cartersville! With our residential roof repair team of certified GAF Master Elite Contractors, we can replace or repair your roof with the highest quality standards and safety protocols.
When you give us a call and schedule a roof inspection, our Cartersville professionals assess not only the present condition of your root, but the age and history of your home. You can trust that we are honest in our evaluations and only recommend necessary services. We guarantee lasting results with our one-year warranty that covers every residential service.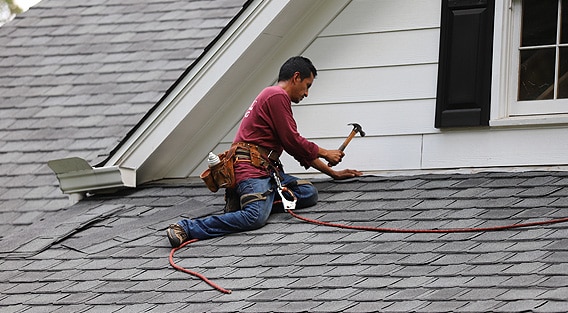 No Project Too Small
After spending over 23 years fixing up more than 8,000 homes suffering from roof damage in the Cartersville area, our residential roof repair team has garnered the experience and advanced technology to tackle any roofing project you throw at us.
Missing shingles
Overheated Attic/ Improper ventilation
Nail pops
Damaged/expired pipe boots
Damaged Flashing
Compromised/Leaky Valleys
Chimney Caps/Pans
Leak at roof/ wall junctions
Find the Right Roofing Repair Solutions
It might be difficult to know the condition of your roof, especially if you've just moved into your home. Bell Roofing is just a phone call away from inspecting your roof for potential causes for concern. We know that, just because you have a single leak, doesn't mean you need a whole new roof. However, if you do need a complete roof replacement, our certified residential roof repair contractors in Cartersville can guide you through the efficient process of our Bell Systems and material options.
Whether you're a homeowner or a business owner, roof damage is always inconvenient. But at Bell Roofing, we try to lift some of that burden with roofing repair and replacement services that are unmatched in the Cartersville area. Give us a call at Bell Roofing. Where every project is Bell Done. Bell Guaranteed.