COME VISIT US
2531 BRIARCLIFF ROAD NE, SUITE 109
ATLANTA, GA 30329
Allow Bell Roofing to meet all your roofing needs. If you are in the Clarkston area and are experiencing leaking, damage, or any other roofing issues, Bell Roofing has the expertise and service you require. As a locally-owned and operated company, we've been in the community for years and pride ourselves on our commitment to our customers and our excellent reputation in the Atlanta area. We are the city's #1 preferred roofing company, because we make sure our customers get exactly what they want! If you are in the Clarkston area and require roof repairs or replacement, call us or fill out our online form for a free quote today.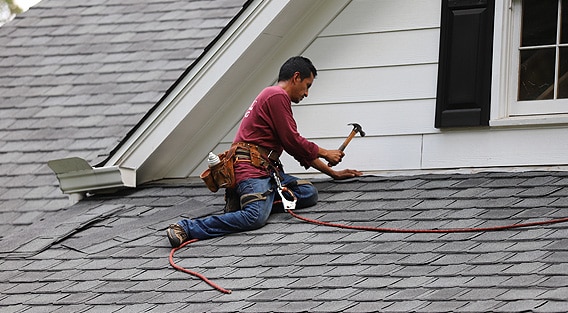 A well-maintained, professionally-installed roof should last 25-30 years, but that doesn't mean problems won't crop up from time to time. If you have a leak, damage, or other issue, our experienced team of professionals will give your roof a comprehensive inspection, and report back with any recommendations for repairs. Our roofing specialists don't just fix the problem; they'll go straight to the source of the problem to make sure it doesn't happen again. After all, the last thing you want after having a leak fixed is to find it leaking again just a few months later! Our experienced team has seen it all, and knows how to nip a stubborn leak for good. At Bell Roofing we also stress the importance of proper ventilation; in our inspection reports we offer recommendations for how to maximize proper ventilation, to increase the longevity of your roof and save you money on heating and cooling.
Even a great roof ages over the years, so if it's time to have a full replacement, our team at Bell Roofing offers efficient, affordable options to provide you with a quality new roof. We are proud to offer a 10-year workmanship warranty on all new roofs, so you can be sure we are committed to giving you the best product possible. We always replace old roof components with a new installation; some companies will reuse old components, such as flashing, but this leads to premature roofing problems and we want your new roof to endure as long as possible. Our licensed and certified roofers are here to offer you quality, efficient service, and our 10-year warranty can give you confidence in your new roof for years to come.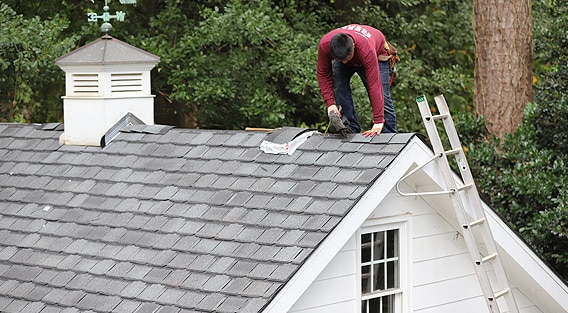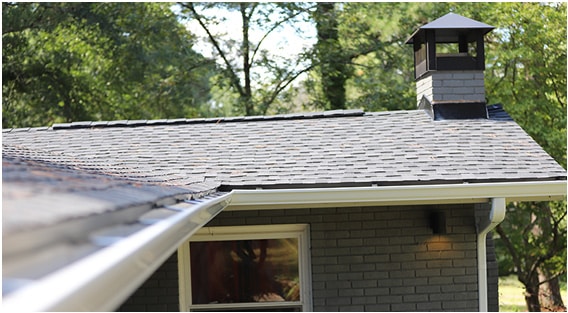 Often overlooked, a clean and well-installed gutter system is a crucial part of a long-lasting roof. Keeping your gutters free from debris ensures proper drainage to keep your roof healthy and dry. Bell Roofing is pleased to offer a wide variety of gutter options to suit your needs, as well as various kind of gutter guards to keep them debris-free. Our team will be happy to consult with you on which gutters are the best options for your home and roof. Don't let old or clogged gutters lead to premature roof failure; call us today to replace or install new ones.
Bell Roofing is a proud member of the Atlanta community. Our customers are our neighbours, after all, so we are committed to providing them with honest, quality service. Our name is our reputation, so we want you to have a great experience with Bell Roofing! Check our website for unique money-saving options on new roofs and roof repairs, and call or fill out our form for a free quote to get started. If you are in the Clarkston area and need roofing services, we are here for you.