COME VISIT US
2531 BRIARCLIFF ROAD NE, SUITE 109
ATLANTA, GA 30329
Commercial Roofing Installations for Flat Roofs in Atlanta

When you are looking for unrivaled commercial roofing installation experts in Atlanta for your commercial flat roof, you won't find a better roofing contractor than the specialists at Bell Roofing. Our expertise lies in providing top-notch roofing solutions constructed to endure the test of time, weather, and the everyday demands of your business. With our unmatched expertise in PVC, TPO, and EPDM single-ply membranes, along with torch down and modified bitumen asphalt membranes, our Atlanta based flat roofing contractors guarantee enduring protection against the harshest elements.
---
Flat Roofing Options at Bell Roofing
TPO, or thermoplastic polyolefin, is a resilient, UV-resistant membrane. Its 81.9% reflectivity factor ensures it reflects a majority of sunlight, helping maintain cooler interior temperatures in your building. When correctly installed by our certified flat roofing contractors in Atlanta, this durable and cost-effective option offers a steadfast roofing solution that will last for decades.
PVC, or polyvinyl chloride, possesses similar advantageous properties as TPO. It also forms a sturdy, single-ply membrane over your roof and offers significant UV resistance. PVC is resistant to grease, which makes it an ideal choice for businesses like restaurants, where exhaust from cooking operations can compromise the integrity of a flat roof.
In certain cases, your existing roof may not need a complete overhaul. When the structural layers of your roof remain in good condition, it can be efficiently treated with silicone or acrylic coatings. These will revitalize the waterproof capabilities of your roof, extending the life of TPO, PVC, or metal roofs, and providing an economical method to enhance the longevity of your roof.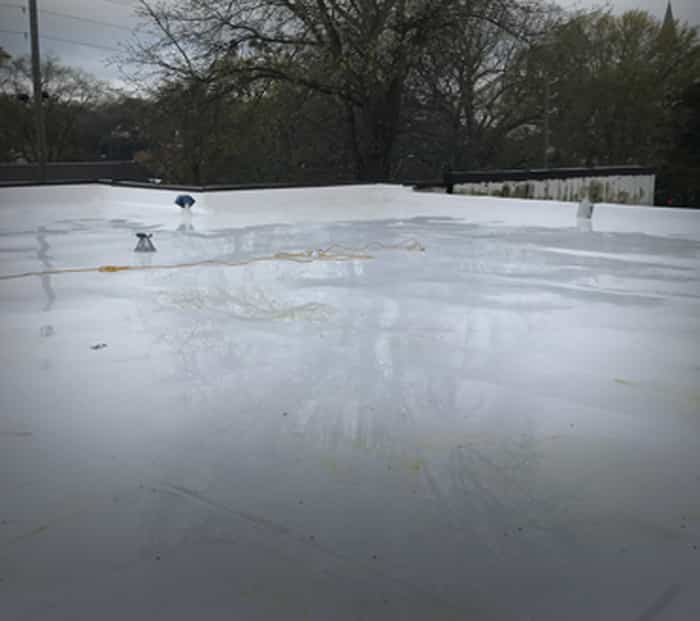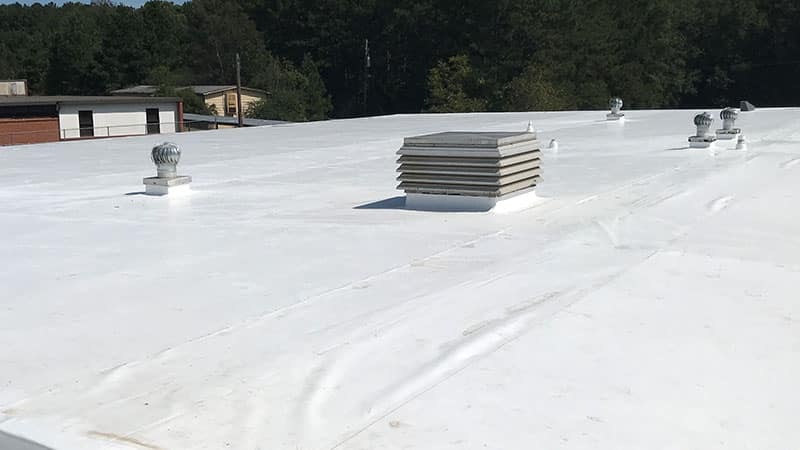 The Bell Roofing Commitment
At Bell Roofing, we understand the importance of minimal disruption to your daily operations. We are committed to maintaining a safe and smooth installation process. Your business, employees, and customers are our utmost priority, and we conduct our operations to ensure their safety and comfort.
Roofing is not just about shelter and keeping your assets and inventory protected. It's also about trust in the quality and durability of the materials, trust in the skills of the craftsmen, and trust in the company that stands behind its work. With Bell Roofing, you get all three. We have the skill, experience, and dedication to protect your commercial space against the harshest weather conditions, providing you with commercial roofing solutions that will protect your assets for decades to come.
Don't settle for less when it comes to protecting your business. Choose Bell Roofing. We're the reliable choice for superior flat roof and other commercial roofing installations in Atlanta. Reach out to us today to schedule your free inspection, and let's safeguard your business together.
GET A FREE FLAT ROOF INSPECTION

PLEASE FILL THE FORM BELOW
A representative will contact you to set an appointment at your convenience. We provide free estimates with no high-pressure sales. A Bell Roofing technician will visit your property to check your roof.