COME VISIT US
2531 BRIARCLIFF ROAD NE, SUITE 109
ATLANTA, GA 30329
Commercial Roof Maintenance Services in Marietta
You don't trust your auto repair to just any mechanic, so you shouldn't leave such important work like proactive commercial roof maintenance in Marietta to anyone but Bell Roofing. We're certified as a GAF Commercial Master Contractor—a designation given to only the best in the industry. Our team in Marietta has offered commercial roof maintenance, repair, and installation services to commercial and industrial property owners for more than 23 years. We're confident enough in our commercial roofing services that we offer a no-leak guarantee and workmanship warranties and roofing system warranties on every job we perform.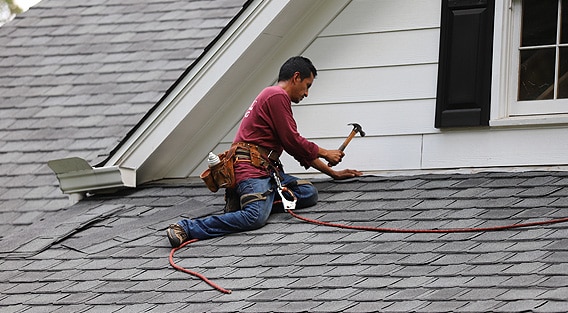 Intense sun, rain, and hail can cause significant roof damage, which potentially could lead to serious problems if left undiagnosed and unmitigated. The longer the damaged area remains unattended, the greater the cost to complete repairs and replacements in your Marietta home. A regular maintenance program of scheduled inspections and check-ups can help detect problems before they actually occur.
We're the Marietta experts in modified bitumen, TPO, and roof coatings, as well as metal and asphalt (bitumen and torch down) commercial roofs and standard, pitched shingle roofs.
We'll check your gutters, drains, and scuppers to ensure they are free from debris or other obstructions. Our technicians will perform a meticulous inspection to ensure the integrity of your coating at its seams and at the edges of the roof, around the pipes, and around all flashing of the hatches and your Marietta home's HVAC system.
If we do find issues with your roof, we'll provide you with an honest evaluation of our discoveries, and a competitive estimate for the repairs necessary to protect the assets of your commercial property.
Don't wait until your roof suffers damage that can easily get worse and become more costly to repair over time. Contact Bell Roofing and schedule a free inspection and quote on our exclusive preventative commercial roof maintenance services in Marietta for your property. The weather seems to get worse with every change of the seasons, so it makes good business sense to stay ahead of what nature dumps onto your roof.