COME VISIT US
2531 BRIARCLIFF ROAD NE, SUITE 109
ATLANTA, GA 30329
Flat Roof Installation in Sandy Springs
It's easy to get lost in all the options, details, and accessories when you shop for a roof. You can choose a pitched roof, and if you do, would you like it with dormers, skylights, asphalt shingles, wood shingles, or tile? On the other hand, you might want to consider flat roof installation for your Sandy Springs business or home.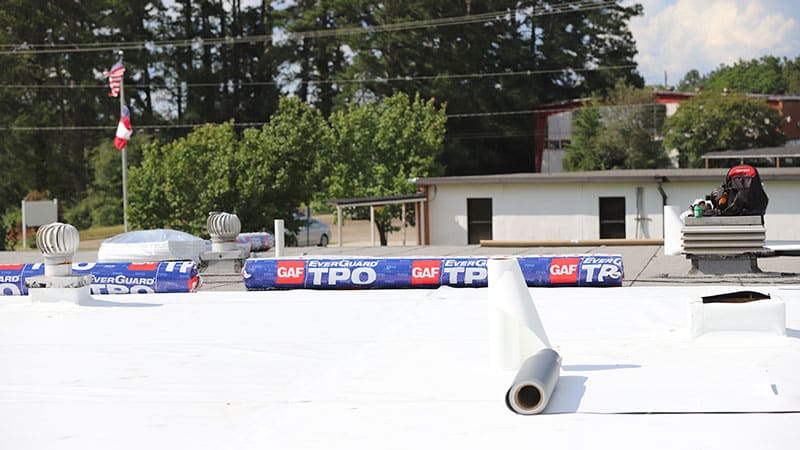 In Sandy Springs, a flat roof installation is typically less expensive and can be installed more quickly than a pitched roof. It is also easier to maintain and repair. Seasonal cleaning—leaves, branches, and other debris—and hanging holiday lights and decorations can be added more quickly because it's much easier to navigate a flat surface rather than a sloped and shingled surface. A sloped roof reduces the amount of usable space on your top floor, but a flat roof offers you the full area and increases your overall square footage.
With residential flat roof installation in Sandy Springs, you can use your roof as a deck. A flat roof for a commercial building provides optimal space for ventilation and HVAC systems, and is also a wonderful location for a sky garden, a musical performance area, or even a wine and beer bar.
We offer three different flat roof systems at Bell Roofing:
The Bell TPO: Thermoplastic Polyolefin is the most common single-ply roofing membrane for a residential or commercial application. Its white surface naturally reflects UV rays, which reduces the need for constant use of your cooling system during the hot months.
The Bell Modified Bitumen: This system is a rubber or plastic polymer mixed with asphalt. It's a preferred solution when there is a need to support heavy foot traffic on a flat roof.
The Bell Roof Coating: Roof coatings are applied with a brush or roller. They are also reflective—which lowers your energy costs—and they offer a greener solution than other roofing systems.
All of our flat roof systems come with 10-, 15-, or 20-year workmanship and materials warranties, and depending upon the size of roof, Bell Roofing in Sandy Springs can typically install your flat roof in one day; two days maximum.
When your commercial building or home in Sandy Springs needs flat roof installation services, reach out to the GAF Master Elite Contractors at Bell Roofing. We offer flat roof options that won't boggle your mind. In business since 1998, we've established ourselves as a premier Sandy Springs roofing repair and installation company. Call today and schedule your free estimate!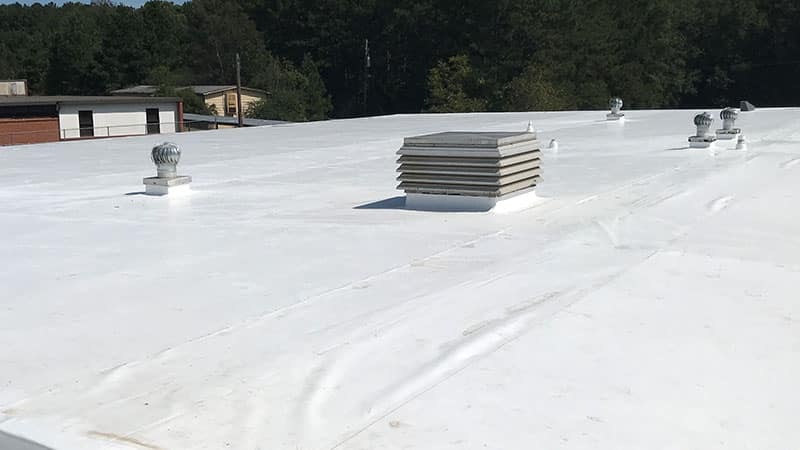 Our Location
Testimonials
I had an excellent experience with this company. They did a great work stopping a leak I had when we got heavy rain. There roofing crew fast and efficient, I would recommend this company to everyone. Everyone for sales to roofing crew very helpful to sure all of the process went well.

Bell Roofing was amazing to work with. They maintained a good schedule, communicated expectations clearly, and all work was top notch. We needed a full redecking, and all costs were clearly outlined. Even with the extra work and additional dumpster, the work was completed on time, and the property cleanup was impeccable.

My mother recently used these guys to get a new roof installed and she is so happy with their excellent work and the time and care that they spent working with her. The roof has totally revitalized her home and we are happy campers. Bell comes highly recommended by our family. Ten star service.