COME VISIT US
2531 BRIARCLIFF ROAD NE, SUITE 109
ATLANTA, GA 30329
Hail-Resistant Shingles for Sandy Springs Homes

When you hear the distinct sound of hailstones striking the traditional asphalt shingle roof of your Sandy Springs home, roof repair is probably something you're going to need sooner rather than later. Hailstones can crack, shatter, and puncture your shingles, and displace the coating of granules that protect those shingles. All that storm activity can leave your roof exposed to water damage, mold growth, and wood rot. The professionals at Bell Roofing can repair the roof on your home before the damage becomes more extensive and expensive. Our trusted experts provide installations for hail-resistant shingles in the Sandy Springs area.
---
The Bell Solution
We recommend the installation of GAF Timberline® AS II Shingles, a best-in-class solution with the maximum UL 2218 Class 4 impact resistance rating you can get from a shingle. Made from a GAF proprietary formula, these rubber-like shingles are designed to withstand the impact of hail storms and are sturdy in the wind — protecting your roof from mold and fungal growth (two conditions that create wood rot). Besides their effectiveness as impact-resistant roofing for Sandy Springs homes, the AS II shingles are also aesthetically pleasing, and come in a broad assortment of colors to spruce up your home.
The Bell Roofing Difference
Hail, high wind, torrential rain—any one or all of those together can cause significant damage to the shingles of your home. The GAF-certified roofers of Bell Roofing have been restoring, installing, and repairing roofs in Sandy Springs since 1998. In all those years, we've successfully completed more than 8,000 roof repairs and installations for Sandy Springs homes and commercial properties throughout the greater Atlanta area. When you want the best hail-resistant shingles for your home, contact Bell Roofing, because if it's Bell done, it's Bell guaranteed.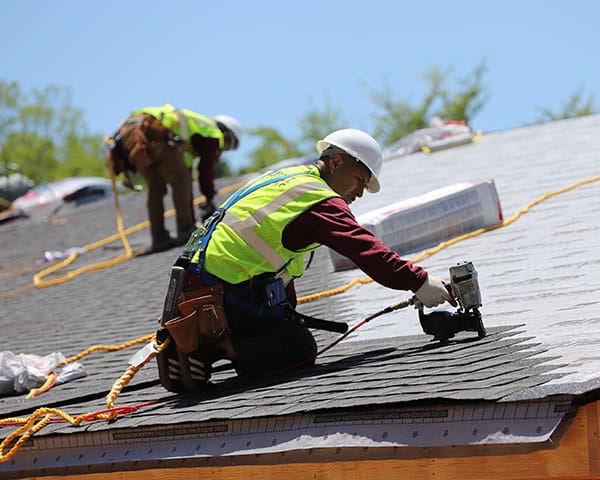 GET A FREE FLAT ROOF INSPECTION

PLEASE FILL THE FORM BELOW
A representative will contact you to set an appointment at your convenience. We provide free estimates with no high-pressure sales. A Bell Roofing technician will visit your property to check your roof.