COME VISIT US
2531 BRIARCLIFF ROAD NE, SUITE 109
ATLANTA, GA 30329

BELL DONE
BELL GUARANTEED
10, 20 or 25 year warranty options on new roofs.
1 year warranty on repairs.
10 year warranty on new skylights.
BELL
HONESTY
We hold true to the work we offer and have the customer's best interest.
We show everything we do.
We offer solutions that we know work.

BELL
SAFETY
All technicians and team members fully insured.
Complete cleanup of all debris, material & nails.

BELL CARES FOR
GREEN
Recycle Shingles.
Recycle Gutters.

BELL'S UNIQUE
CRAFTSMANSHIP
Selected top 2% best contractors nationwide.
4,500+ roofs installed in Atlanta since 1998.
GAF Master Elite member since 2017.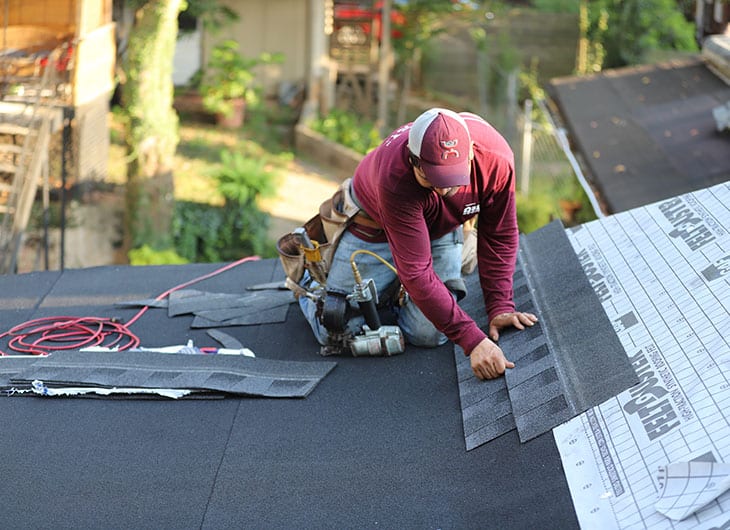 BELL DONE. BELL GUARANTEED.
Our promise to our customers. In all that we do, we GUARANTEE our work because we do it right - detailed inspections, following manufacturer's specs, photo evidence - all a part of offering our best to you.
Each of our roofing systems honor that NO-LEAK 'BELL GUARANTEED' PROMISE. Using prime materials & first-rate workmanship standards, we offer roofing systems with 1, 10, 20 and 25 year warranties.
If a roof is beyond repair, we will not force it. We're not in the business of profiting from customers simply to have a job done.
Simple. If it's BELL DONE, it's BELL GUARANTEED.
Bell Roofing is a locally owned and operated residential and commercial roofing company in Atlanta, GA. For over 23 years, we've been known for our exceptional roof installations, roofing repairs, skylights and gutter installations. 90% of our business comes from customer reviews - a testament to the quality of work we put into every job. Since we started in 1998, we have installed more than 4,500 roofs in the Greater Atlanta area.
Since 1998, Bell Roofing Residential has installed more than 5,000 residential roofs in the Greater Atlanta area. The residential division does shingle roofing, modified bitumen roll roofing, roof repairs, skylights, gutters, framing, and roof carpentry. We are big on ventilation! Most roofing manufacturers will not warrant their products if the attic is not properly vented. Proper venting not only saves you money in heating and cooling bills, it also plays a major role in prolonging the life of your roof. During our comprehensive roof inspection, we can offer you the best ventilation options for your home. We can also replace all roof components including flashings (wherever possible) and pipe boots . Bell Roofing Residential has been granted the GAF Master Elite Contractor certification, an award only given to the top 2% of residential roofing contractors in North America.
Bell Roofing Commercial Division focuses on commercial and industrial roof installations and repairs. The Commercial division does single-ply membranes (TPO) installations and repairs, Commercial Roof Coating Systems, Commercial skylights, Modified Bitumen systems and Commercial gutter installations. Bell Roofing Commercial has been granted the GAF Commercial Master Select Contractor and the GAF Certified Maintenance Professional certifications for top quality commercial roofing work.
To bolster your confidence and comfort with Bell Roofing, we provide roofing systems with 10 years or 20 years or 25 years workmanship warranty on every new roof installation. All our repairs come with a 1-year workmanship warranty on the repair area. This is why we always say: if it's BELL DONE, it's BELL GUARANTEED. In recognition for its consistently high-quality service, top roofing workmanship and professional systems installation, Bell Roofing was awarded the GAF President's Club Status since 1999. The President's Club designation is the highest level award a Master Elite contractor can earn within the GAF Certified Contractor Program.
We offer honesty, quality, great customer service and guaranteed products to Metro Atlanta. We focus on what we're experts in and leave the rest to the others. Bell Roofing can deliver what you want in a residential and commercial roofing company, and add the personal attention that other roofers cannot. Give Bell Roofing a call today for a free estimate on your roof. You will be so glad you contacted us!