COME VISIT US
2531 BRIARCLIFF ROAD NE, SUITE 109
ATLANTA, GA 30329
If you are experiencing issues with your roof, look no further than Bell Roofing! We are locally-owned and operated and have been working in the Atlanta area for many years. If you live in Mableton and need help with your roof, we would be happy to come over and take a look. Call today or fill out our online form for a free quote, and we can take it from there! From repairs to installations, our expert team of licensed and certified roofing professionals is experienced, hard-working, and honest. Our customers are also our neighbours, so we take your satisfaction seriously. Give us a call today to get started!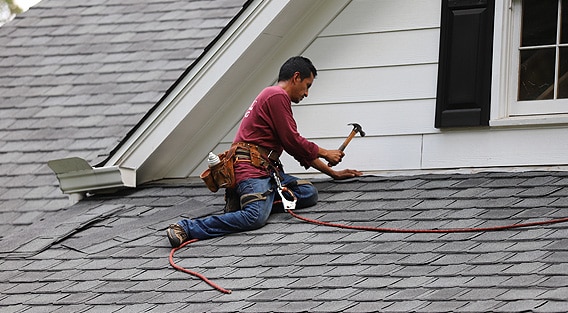 Is it time to let the old roof go? If you need a new roof, Bell Roofing has everything to provide you with the best roof for your needs. We offer a wide variety of materials and options depending on your style and budget. Our durable roofing materials are backed by a lifetime warranty, so you can trust the quality. We use new materials on all new roof installations, to ensure the longest life for your new roof, and because of our commitment to sustainability, we recycle all roofing debris. And we stand by our work, so we are proud to offer a 10-year workmanship warranty on every new roof we install.
If your roof can be repaired and not replaced, we will always go for the repairs. Our name is our best asset, so you can be sure we'll never sell you something you don't need. We also never put a band-aid on a problem that needs a deeper fix; if you have a leak, we'll make sure we take care of the original problem to be sure the leak doesn't come back. In our comprehensive inspection report, we will look at your roof system and offer recommendations tailored to your home. We are also big on ventilation! A properly ventilated roof system increases the life of your room and saves you money on energy bills. Contact us today and our team of roofing experts will get to work!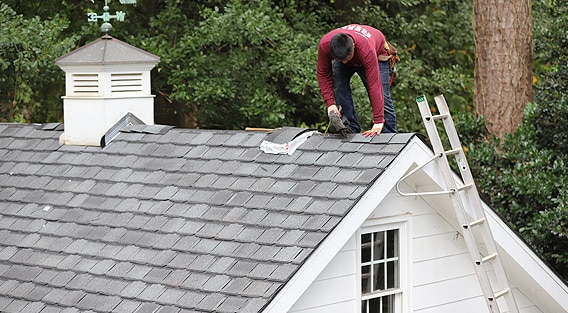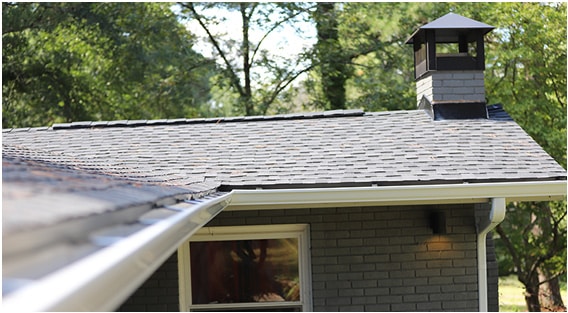 Any roofing expert worth their salt will stress to you the importance of gutters in a healthy, long-living roof. It's important to keep gutters clean and free from debris; we recommend gutter guards to keep them from getting clogged. We offer a wide selection of gutter options, and can recommend a gutter system specific to your needs.
Here are Bell Roofing, we pride ourselves on our honest, quality work and superior materials. There's a good reason we are Atlanta's #1 roofing company! Call today or fill out our online form to get a free quote. We will be happy to service your Mableton roof.