COME VISIT US
2531 BRIARCLIFF ROAD NE, SUITE 109
ATLANTA, GA 30329
Expert Ceiling Leak Repair Services in Marietta
At Bell Roofing, we recognize that ceiling leaks demand immediate action. Home and business owners in Marietta, Georgia, know that even a tiny leak can result in substantial damage if not tackled promptly. Our skilled team is here to assist.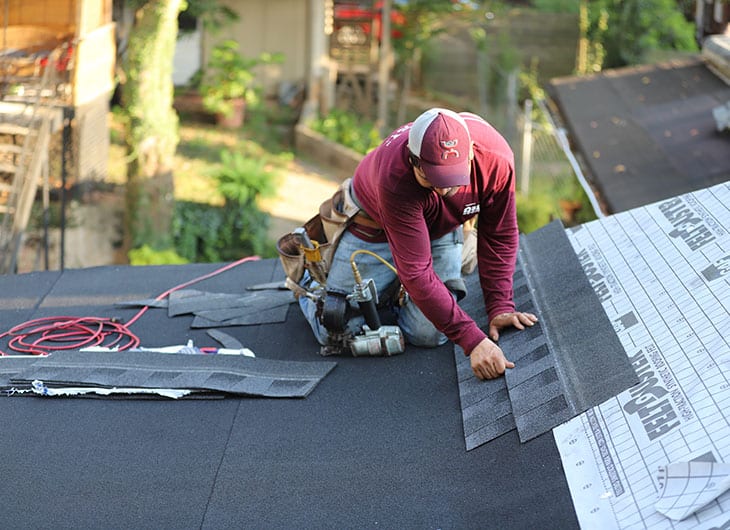 Addressing Your Ceiling Leak
Ceiling leaks occur due to a multitude of factors. Whether it is a worn-out roof, clogged gutters, or the repercussions of harsh weather, water can find its way into your home or business, leading to unsightly marks and dangerous mold formation. These leaks might also compromise the concrete foundation of your property. Swift action is essential, and Bell Roofing is your dependable ally in providing top-notch ceiling leak repair in Marietta.
Our expertise is firmly rooted in Marietta with over 25 years of practical experience, specialized know-how, and a steadfast commitment to excellence. We ensure our team of seasoned technicians is on top of the latest industry practices. By selecting Bell Roofing, you engage a capable team committed to surpassing your expectations. Our ceiling leak repair services in Marietta offer outstanding results without breaking the bank!
Our trademark promise is BELL DONE, BELL GUARANTEED. This dedication to superior work is evident in the comprehensive warranties we offer: a 2-year warranty for business-related repairs and a 1-year warranty for residential jobs. Both of these assurances include materials and craftsmanship, a testament to our confidence in the roof leak solutions we provide in the Marietta area. But we don't stop at mere repair. We perform meticulous inspections to pinpoint the origin of the ceiling leak to ensure effective measures to prevent future issues. Our premier roofing solutions come with a no-leak guarantee seal, affirming our resolve to maintain a solid, leak-resistant roof for you.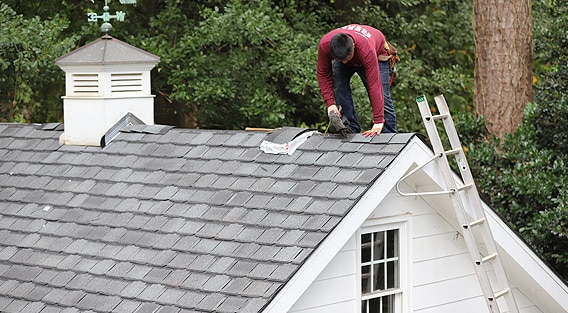 Top-Notch Roofing Service in Marietta
When ceiling leaks disrupt your routine, expert help is just a call away. As a community-rooted business, we cherish our ties with Marietta. You're never alone when faced with the challenge of ceiling leak repairs.
Connect With Bell Roofing
Don't let a small leak magnify into a sizable concern. Engage with us for a complimentary estimate, and we'll provide a steadfast answer to your roofing dilemmas. With Bell Roofing on your side, you're aligned with a reliable ally to safeguard your property.
Our Location
Testimonials
I had an excellent experience with this company. They did a great work stopping a leak I had when we got heavy rain. There roofing crew fast and efficient, I would recommend this company to everyone. Everyone for sales to roofing crew very helpful to sure all of the process went well.

Bell Roofing was amazing to work with. They maintained a good schedule, communicated expectations clearly, and all work was top notch. We needed a full redecking, and all costs were clearly outlined. Even with the extra work and additional dumpster, the work was completed on time, and the property cleanup was impeccable.

My mother recently used these guys to get a new roof installed and she is so happy with their excellent work and the time and care that they spent working with her. The roof has totally revitalized her home and we are happy campers. Bell comes highly recommended by our family. Ten star service.