COME VISIT US
1337 CANTON ROAD SUITE G,
MARIETTA, GA 30066
Commercial Flat Roof Repair in Marietta
The extreme weather in our area can brutalize the flat roof of your commercial or industrial building. With heavy rain comes the possibility of standing water. The intense ultraviolet rays of the summer sun can cause the coating or membrane of your roof to crack, blister, and flake, leaving the deck of your roof vulnerable to water damage, which then leads to mold and mildew issues. Hail can pop holes in your coating or membrane, also leaving the protective cover of your business or warehouse susceptible to water damage. Debris, leaves, and twigs can clog your gutters and scuppers, which increases the possibility of standing water on your flat roof.
It's time to have your roof inspected if it's been awhile, and we suspect it's been even longer than that. If the warranty on your flat roof is expired, you most certainly need to schedule a roof inspection. The longer you wait, the greater the chance that anything wrong with your flat roof will require extensive and expensive repair sooner rather than later. Our GAF Master Elite Contractors at Bell Roofing are experts in assessing the condition of your flat roof—and repairing it.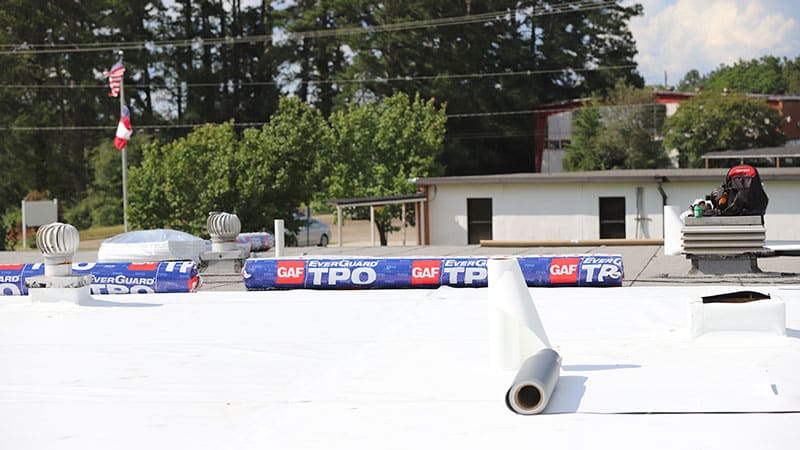 We'll do a thorough inspection, and we'll provide you with a detailed assessment of any damage we might find, with a free estimate of the costs to repair that damage. Since 1998, we've been a leader in commercial flat roof repair in Marietta, and we're experts in working with TPO flat roofing systems:
The Bell TPO 10 Flat Roof System:
We offer a 10-year workmanship and materials warranty on this system of insulation and a 45 mm Everguard TPO membrane. The system includes heat welding and sealed drip edges.
The Bell TPO 15 Flat Roof System:
This solution is similar to our TPO 10, but comes with a 15-year workmanship and materials warranty and uses a heavier duty 60 mm Everguard TPO membrane.
The Bell TPO 20 Flat Roof System:
Our experts designed this premier flat roofing solution. We offer a 20-year workmanship and materials warranty. We use the best insulation offered for the roofing industry. It also includes the 60 mm Everguard TPO membrane, metal counter flashing, sealed commercial drip edges, and termination bars.
We offer a full menu of coating systems, including the HydroStop® coating system and GAF Liberty modified bitumen flat roofing systems.
Contact Bell Roofing in Marietta for your free roof inspection and work estimate for commercial flat roof repair at your Marietta business. Let's talk about TPO membrane and coating solutions to decide which is best for your building. All of our systems are backed with a 10-, 15-, or 20-year workmanship and materials warranty.
GET A FREE FLAT ROOF INSPECTION

PLEASE FILL THE FORM BELOW
A representative will contact you to set an appointment at your convenience. We provide free estimates with no high-pressure sales. A Bell Roofing technician will visit your property to check your roof.