COME VISIT US
2531 BRIARCLIFF ROAD NE, SUITE 109
ATLANTA, GA 30329
Commercial Roof Maintenance Services in Marietta

When you think about it, we have to provide routine servicing on our vehicles, either at a professional garage or right in our own driveways. Otherwise, our cars and trucks would break down. We change the oil, inflate the tires, and switch out the spark plugs. Thing is, not many of us think about adopting such a preventative approach when it comes to the upkeep of the roof that protects our commercial spaces. That's where the professionals at Bell Roofing come in.
---
The Variety of Flat Roofs We Service
Whether your industrial or commercial space in Marietta has a pitched roof or a flat roof, your roof serves as an essential component of your building; and bears the harshest external conditions. This makes your roof vulnerable to seasonal wear and tear and damage from sudden inclement weather. In Marietta, your roof endures intense sunlight, wind, rain, hail, snow, high temperatures, and freezing conditions.
The skilled team at Bell Roofing is a huge advocate for regular roof assessments, usually in late autumn and early spring. By maintaining a regular maintenance schedule for the roof of your commercial building, we can detect and address potential issues before they escalate into expensive, major repairs. The comprehensive commercial roof maintenance services we provide in Marietta include, but are not limited to:
Detailed roof examination
Basic repairs
Clearance of debris
Cleaning of gutters and scuppers
Eradication of mold
If your building has a flat roof, we'll check it for pooled water and punctures in the protective covering or membrane. We are specialists in EPDM, PVC, and TPO single-ply membranes, along with modified bitumen and torch down asphalt membranes. Our commercial roof maintenance professionals in Marietta will inspect the flashing around your HVAC units, skylights, and every hatch, and we will assess the durability of all pipe and vent boots. For pitched, shingle-covered roofs, we'll check for cracked, curled, or bald shingles and those with missing granules, and for tiles that are loose or missing.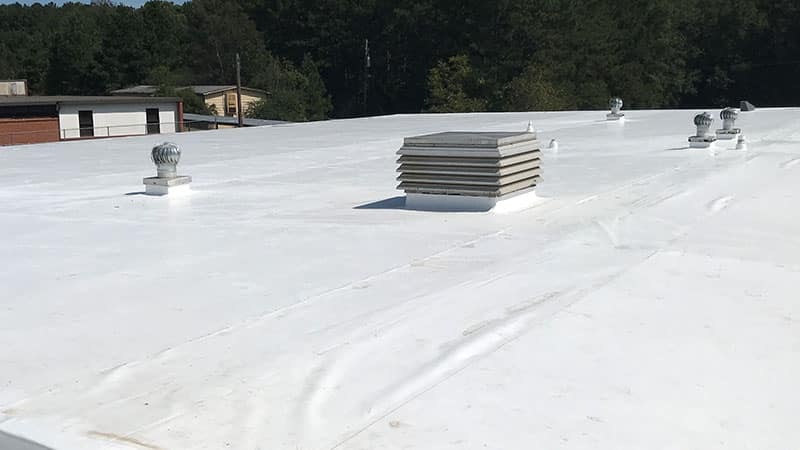 The Bell Roofing Advantage
At the conclusion of each maintenance assessment, we'll provide you with a comprehensive report that highlights any damage and outlines our suggested repairs, as well as a complete complimentary cost estimate if problem areas are found.
Prompt detection and resolution of roofing issues reduces the future risk of more extensive damages later on. When you want the best in commercial roof maintenance for your Marietta business, contact the GAF Master Elite contractors at Bell Roofing. We've been safeguarding the residences and businesses in the Marietta community since 1998. We know what we're doing, and we're always here to serve your roofing needs.
GET A FREE FLAT ROOF INSPECTION

PLEASE FILL THE FORM BELOW
A representative will contact you to set an appointment at your convenience. We provide free estimates with no high-pressure sales. A Bell Roofing technician will visit your property to check your roof.