COME VISIT US
2531 BRIARCLIFF ROAD NE, SUITE 109
ATLANTA, GA 30329
Emergency Repairs
ROOFING PARTNER IN MARIETTA

Extreme, destructive, and dangerous weather—when your home is in the path of a severe storm, the last thing you want to see are swaying trees when you look up to where your roof used to be, or to feel water dripping onto your head during a particularly heavy rainstorm. Roof damage is not something you can ignore or put off repairing. A damaged roof leaves your entire home exposed to risk. And according to Murphy's Law, the damage will occur at the worst possible time, usually late at night when every roofer in Cobb County is asleep.
That's all right. The professionals at Bell Roofing are always ready and willing to respond when your Marietta home needs emergency roof repairs, even in the middle of the night. Give us a call and we'll begin to assess the severity of the damage and the steps we'll need to take if the problem can't wait until morning. We'll also recommend you take photographs to establish justification for an insurance claim.
---
High winds can strip shingles from the roof of your home, and during the most severe events, can topple a tree onto the roof, causing extensive damage to Marietta properties. Clogged and damaged gutters and downspouts can result in unexpected leaks. The age of your roof and the last date it was serviced may affect the severity of the damage.
Our best advice is not to try to perform emergency roof repairs on your Marietta home yourself, especially during inclement weather. It's important to call licensed professionals who are insured and have experience with every sort of damage that could happen to your roof, and who also know how to complete the proper reports and paperwork to ensure a quicker response from your homeowners insurance company.
The hot and humid climate of the local area sets a perfect stage for intense thunderstorms, hurricanes, tornadoes, and so many other extreme weather events in Marietta. And when something happens to cause sudden and unexpected damage to the roof of your home, grab your phone and contact Bell Roofing for emergency roofing repair in Marietta. We've been a trusted company in our community for roofing services and emergency roof repairs in Marietta, since 1998. You'll be amazed at our response time and the skill of our GAF Master Elite roofers to create a quick fix to mitigate the problem until a permanent solution can be made.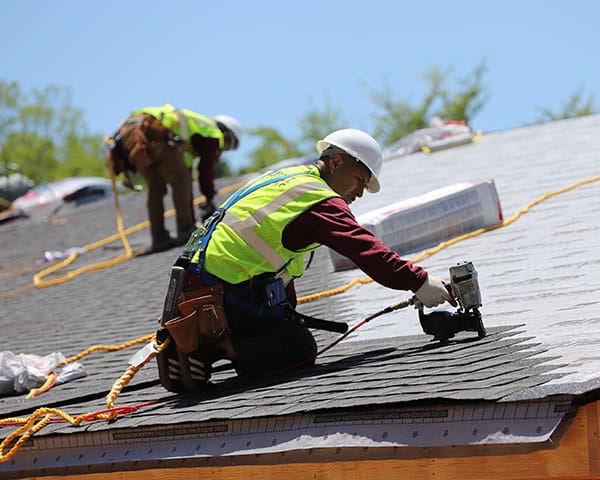 GET A FREE FLAT ROOF INSPECTION

PLEASE FILL THE FORM BELOW
A representative will contact you to set an appointment at your convenience. We provide free estimates with no high-pressure sales. A Bell Roofing technician will visit your property to check your roof.