COME VISIT US
2531 BRIARCLIFF ROAD NE, SUITE 109
ATLANTA, GA 30329
Marietta Roof Leak Repair
Exceptional Roof Leak Repair in Marietta
Your home or business in Marietta deserves top-tier care, and an essential part of that involves maintaining a secure and solid roof. Leaks can appear unexpectedly, potentially causing substantial harm to your property. Recognizing this, Bell Roofing provides premier roof water damage repair services specifically designed to address the needs of homeowners and businesses in Marietta, GA.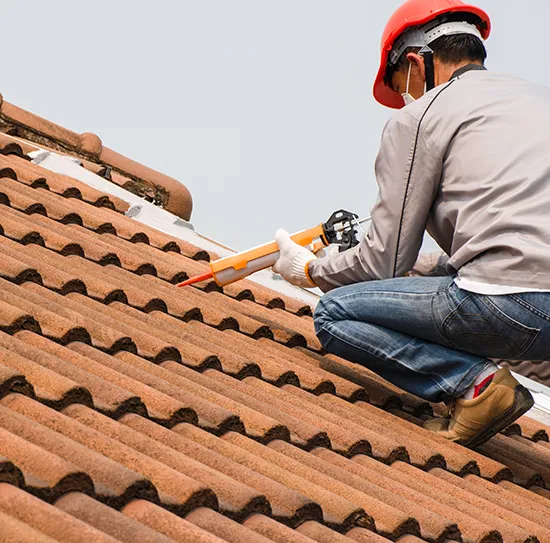 Trust Us With Your Roof Leak Repairs in Marietta
At Bell Roofing, our skilled technicians regularly update their expertise with further training, ensuring they remain current with the latest industry standards and methods. With your roof in our capable hands, we assure you of exceptional service, putting your satisfaction and the safety of your property at the top of our priority list.
Roof leaks can manifest due to numerous factors, such as storm damage, inadequate installation, deteriorating materials, or simply natural wear and tear. Regardless of the cause, dealing with roof leaks swiftly is important. Overlooking leaks could allow water to permeate your property, damaging ceilings, walls, insulation, and even electrical systems. In the long term, this can escalate into more costly repairs and potential health risks arising from mold growth.
Our dedicated Bell Roofing team is proficient in conducting thorough inspections to determine the exact origin of the leak. Once we discover the cause, we deliver reliable and enduring solutions that address the current issue while also safeguarding against future complications. Our high-quality roofing services and flashing repair in Marietta come with a no-leak guarantee seal, a testament to our commitment to excellence.
When you select Bell Roofing for your roof leak repair needs, you're investing in our comprehensive materials and workmanship warranties. For commercial repairs, we provide a 2-year warranty, while residential repairs come with a 1-year warranty. Our unyielding commitment to excellence assures you of top-tier service and durable solutions.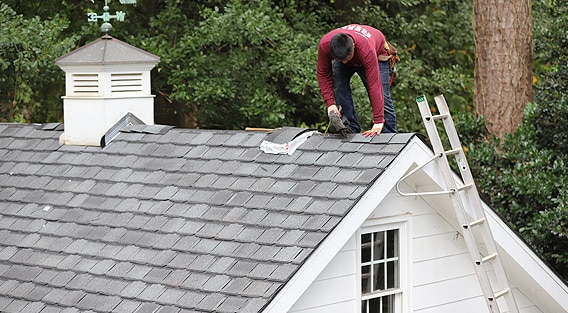 Unmatched Roofing Service in Marietta
As a locally-owned and managed company with over 25 years of roofing experience in Marietta, we are intimately acquainted with the unique roofing challenges specific to this region. For all your roofing needs, from repairs and replacements to new installations, we have earned our reputation as Marietta's trusted name for superior roofing services.
Reach Out to Bell Roofing Today
Avoid letting a minor leak turn into a significant problem. Engage our team today for a free quote on our roof leak repair services. We're just a phone call away, ready and eager to provide the ideal solution for your roofing needs.
Our Location
Testimonials
I had an excellent experience with this company. They did a great work stopping a leak I had when we got heavy rain. There roofing crew fast and efficient, I would recommend this company to everyone. Everyone for sales to roofing crew very helpful to sure all of the process went well.

Bell Roofing was amazing to work with. They maintained a good schedule, communicated expectations clearly, and all work was top notch. We needed a full redecking, and all costs were clearly outlined. Even with the extra work and additional dumpster, the work was completed on time, and the property cleanup was impeccable.

My mother recently used these guys to get a new roof installed and she is so happy with their excellent work and the time and care that they spent working with her. The roof has totally revitalized her home and we are happy campers. Bell comes highly recommended by our family. Ten star service.