COME VISIT US
1337 CANTON ROAD SUITE G,
MARIETTA, GA 30066
Marietta Roofing Services
There's always a calm before the storm, and lately, it seems as if any reprieve is too short and the storms are more intense and don't allow us a breather before the next one. The elements of nature are the biggest threat to the integrity of your roof. Fallen branches or even whole trees, shingles or flat roof coatings aged and cracked from the fluctuations between hot and cold, or damage from the impact of hailstones that seem as big as softballs—any one of a dozen seasonal elements can damage your roof.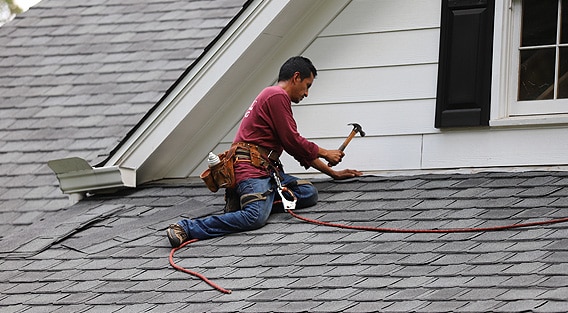 Since 1998, Bell Roofing has provided the finest roofing services in Marietta, with more than 8,000 roof installations across the greater Marietta area. We're experts in all the ways to keep your roof secure and functioning as it should. Our Marietta team will install, repair, and maintain residential, commercial, and industrial roofs. They can be sloped, pitched, or flat—it doesn't matter to us. When you need superior roofing services for your Marietta property, you can count on Bell Roofing to deliver quality workmanship and outstanding customer service every time.
The first order of business is always a free inspection to determine what damage if any, needs to be addressed. We examine your gutters and downspouts to ensure stormwater drains adequately off your roof, and we look for leaks around your chimney or flashing, or at the seams and edges of your flat roof. We're dedicated to sharp attention to detail. If we find nothing, that's great! If we identify a problem, we can guarantee our roof repairs or replacement solutions for your Marietta property will leave you more than satisfied.
Other roofing services we provide in Marietta include:
Complete teardowns and new roof installation
Roof repairs and maintenance
Flat roof TPO systems and coatings
Modified bitumen systems
Skylight installation
Gutter and gutter guard installation
Roof additions and framing
Residential and commercial roofing services
Storm recovery roofing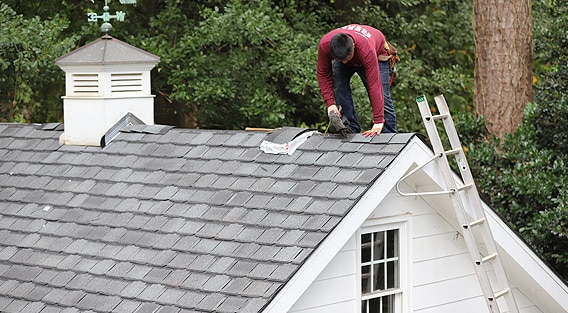 Being proactive about a maintenance plan will reduce your risk of more expensive repairs in the future. Sure, we would make more money from a complete install, but that's not the point. The experts at Bell Roofing are in the business to provide superior customer service above all else. But when the time comes, and your roof needs some work, we provide the best roofing services in Marietta! When it's done by Bell, it's done right.