COME VISIT US
2531 BRIARCLIFF ROAD NE, SUITE 109
ATLANTA, GA 30329
Maybe you need a new roof because you're building a new house in Marietta, or maybe you want to add on a covered patio, sunroom, or a recreation space. Bell Roofing has provided Marietta with new roofing installations and roof replacement for more than two decades, with over 8,000 roofs to our credit. We work with traditional pitched roofs and flat roofs. For residential pitched roof construction, we offer four top-quality Bell Roofing systems, each with their particular workmanship and material warranties and our personal 10-, 20-, or 25-year guarantees, all of them constructed with the finest GAF shingles, underlayments, leak barriers, and ventilation methods. We do all the framing, and we'll connect it all to your old roof if you're adding on. We offer three TPO flat roof options, three modified bitumen systems, and our three Bell roof coating systems. All our flat roof systems come with renewable warranties.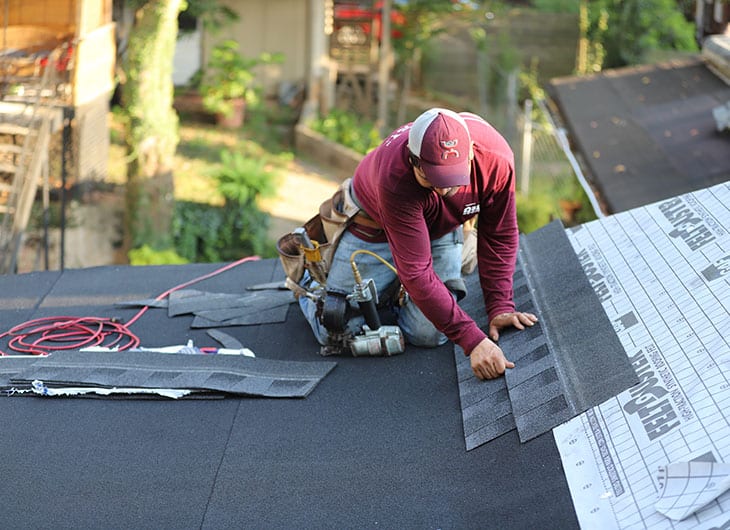 We also replace roofs when repair and restoration are no longer options. We do all the tear-off and disposal of the old material, with our guarantee to keep your property free of debris and hazards. From the framing and decking to the underlays and final installation of the shingles, Our professionals based in Marietta guarantee our new roof construction work will be free of leaks and will be completed with the best quality products in the roofing industry. To finish it all, we'll install rain gutters and downspouts, and the necessary flashing. We won't sign off on the job until your property is clean and you're completely satisfied with our work.
The Bell Roofing Guarantee
Our job is to provide you with tradesmanship and customer service that goes beyond your expectations. We won't be happy unless you're more than satisfied. When you need a new roofing expert in Marietta, or you want to add on to your house, contact our GAF-certified professionals at Bell Roofing.