COME VISIT US
2531 BRIARCLIFF ROAD NE, SUITE 109
ATLANTA, GA 30329
If it has to do with new roofing services in Sandy Springs, the experts at Bell Roofing can do it all. We install pitched, and flat roofs with traditional premium shingles in one of our four proprietary Bell Roofing systems:
The Bell 25 System is our best system, with our 25-year workmanship and 50-year material warranties. We construct it with high-performance GAF Timberline shingles, leak barriers, underlayment, and ventilation methods.
The Bell 20 System offers you the best bang for your buck, a roof system with 20-year workmanship and material warranties. We construct this system with 3-Tab GAF Royal Sovereign shingles and the same premium leak barriers, underlayment, and ventilation methods as the Bell 25 System.
The Bell 10 System is perfect for homeowners who want top-quality materials with a 50-year warranty, but need only a 10-year workmanship warranty.
The Bell 10 System is another roofing option that offers a 10-year workmanship and a 20-year material warranty. We construct this system with GAF Royal Sovereign or CertainTeed CT20 shingles and general leak barriers, underlayment, and ventilation methods. It's perfect for homeowners in Sandy Springs who want an economical option for new roofing.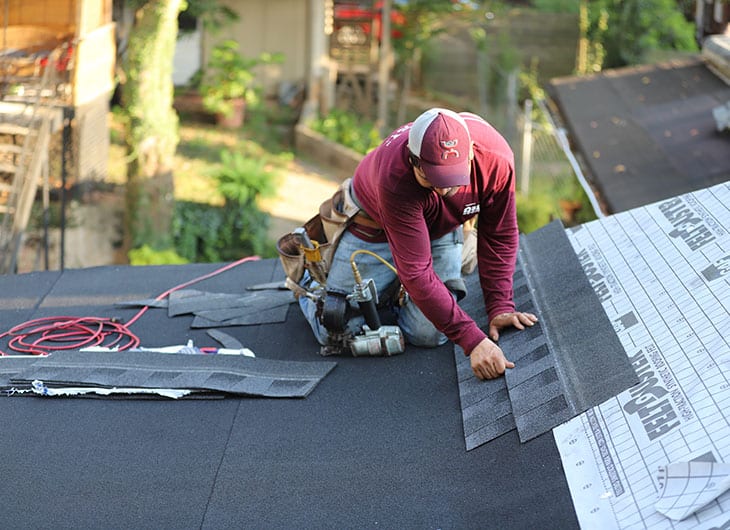 With the kind of weather we've had these past years and the kind of damage it has wrought, sometimes repair is no longer an option. When the worst happens, you want us on the job. Not only are we skilled at roof replacement installations in the Sandy Springs area, we work conscientiously to ensure you are more than satisfied when we complete and sign off on your job. We will do the tear-off and the removal of the old materials, being careful to not damage your landscaping and to not leave behind debris. Using a clean slate, we'll construct the replacement roof you've chosen from our four options, and we'll do it right the first time.
The Bell Roofing Guarantee
We'll come right out and say it: We're the best roofing company you'll find in Sandy Springs for new roofing services and construction. Once you get our GAF-certified experts on top of your house, we'll prove it. For more than two decades we've been dedicated to raising and setting the standards for premier workmanship, quality products, and superior customer service. We provide fair and honest pricing to ensure you are never surprised by hidden costs. With over 8,000 successful roofing projects to our credit, we have to be good or we couldn't live up to our motto: Bell Done. Bell Guaranteed.