COME VISIT US
2531 BRIARCLIFF ROAD NE, SUITE 109
ATLANTA, GA 30329
Commercial Flat Roof Installation Services in Sandy Springs

In your quest for unparalleled craftsmanship in commercial flat roofing installation in Sandy Springs, look no further than the GAF-certified masters at Bell Roofing. Recognized throughout the greater Atlanta region for our impeccable craftsmanship in constructing durable roofing solutions, we design our flat roofs with an eye for longevity, shielding your business against harsh weather and seasonal fluctuations. Our proficiency in PVC, TPO, and EPDM single-ply membranes, along with torch down and modified bitumen asphalt membranes, guarantees you decades of protection from the most severe elements.
---
Our Bell Roofing Flat Roof Options
Thermoplastic polyolefin (TPO) is a dependable, UV-resistant membrane. Its astounding 81.9% reflectivity ensures a large proportion of the sun's rays are reflected, maintaining a more temperate, comfortable environment inside your business. Our commercial flat roofing team in Sandy Springs uses precision installation methods to deliver a sturdy, cost-effective roofing solution that remains resilient for decades.
Polyvinyl chloride (PVC) parallels many of the same protective qualities as TPO. It forms a durable, single-ply membrane across your roof, offering superior UV resistance. In addition, PVC is resistant to grease, making it a favored flat roof option for restaurants, where cooking exhaust often poses a threat to the condition and integrity of the roof.
Under certain circumstances, a complete roof replacement might not be needed. If the roof of your business is structurally sound, we can effectively rejuvenate your existing membrane with a silicone or acrylic coating. Either solution bolsters the waterproofing capabilities and extends the life of TPO, PVC, or metal roofs, while also being a cost-effective solution to extend the lifespan of your commercial flat roof.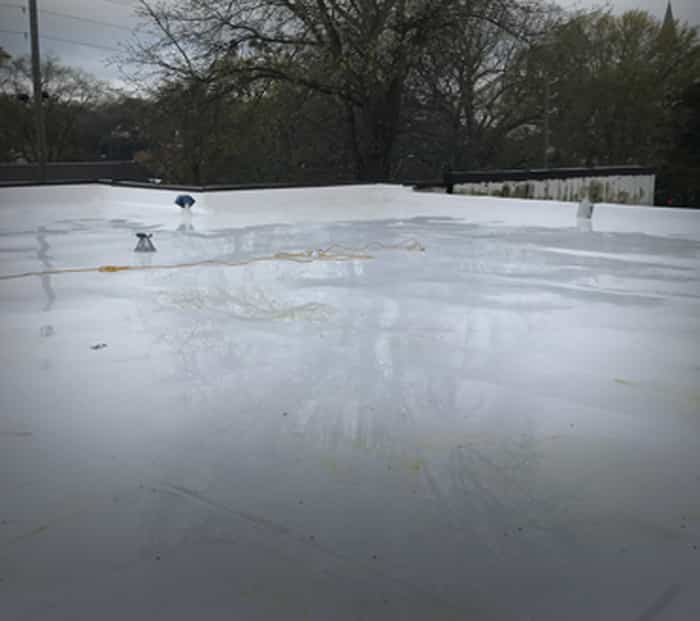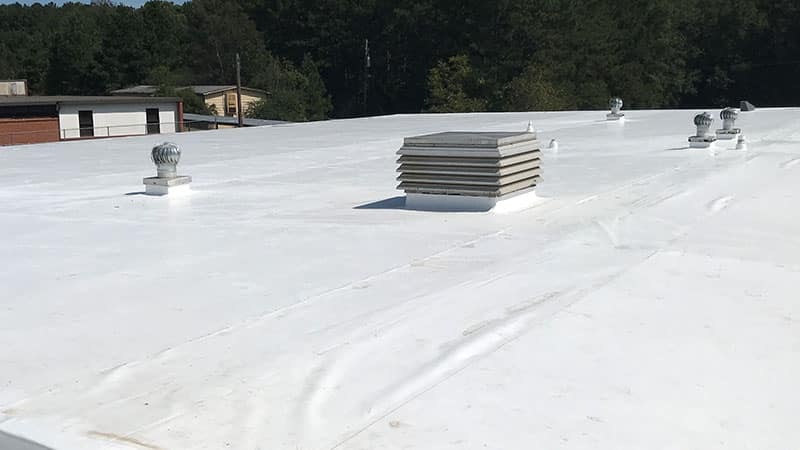 The Bell Difference
At Bell Roofing, we fully appreciate the importance of minimal interference with your everyday business operations. We are committed to providing you with a safe, unobtrusive installation process, with an emphasis on the safety and comfort of your business, your employees, and your customers.
Our commercial flat roof installation in Sandy Springs goes beyond providing shelter and protecting the inventory and assets of your business. We set out with every job to cultivate trust in the durability of the materials we use and confidence in our high-caliber craftsmanship. We are a best-in-class roofing contractor that stands by our work. You'll be hard-pressed to find another company for durable roofing in Sandy Springs that can offer our unparalleled skills, unwavering commitment to quality, and our extensive experience that spans over two decades.
Don't settle for mediocre when it comes to securing your business with the best commercial roofing contractor. Choose Bell Roofing—the trusted name in Sandy Springs for superior commercial flat roofing. Get in touch with us today and schedule your no-cost inspection. We're always ready to demonstrate why we're considered the best roofing contractor in the greater Atlanta area.
GET A FREE FLAT ROOF INSPECTION

PLEASE FILL THE FORM BELOW
A representative will contact you to set an appointment at your convenience. We provide free estimates with no high-pressure sales. A Bell Roofing technician will visit your property to check your roof.