COME VISIT US
2531 BRIARCLIFF ROAD NE, SUITE 109
ATLANTA, GA 30329
Flat Roof Installation and Repair
Flat roofs do not drain as efficiently as pitched roofs, which means that during the lifetime of a flat roof you will experience leaks. It's almost a given. At Bell Roofing, we're familiar with residential and commercial flat roof replacements, installation and repairs in Sandy Springs. With more than 23 years experience, we've repaired hundreds of them and can restore yours, too!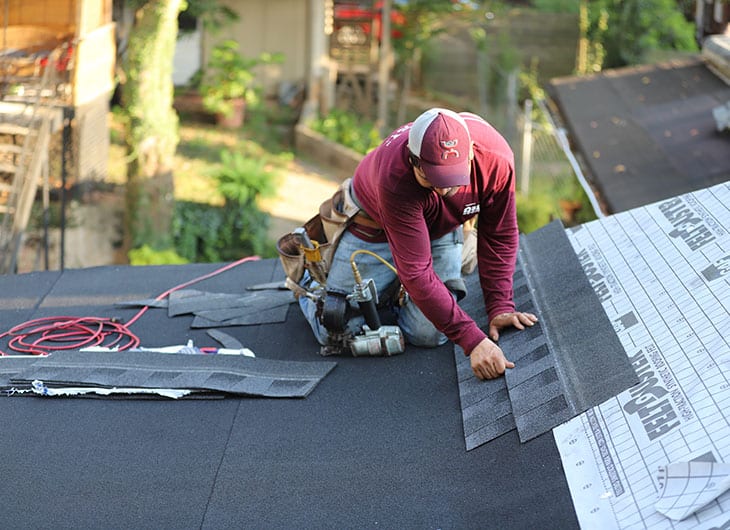 Our Bell Roofing Guarantee
Weather creates the biggest challenge for any flat roof in Sandy Springs. Exposure to the sun and extreme heat cause the roof coating to deteriorate. Hail can crack or puncture the surface, and when all drainage routes become clogged with debris, a heavy rainstorm will form pools of water that create leaks.
Roofing Services We Offer
On the bright side, it does not take long to repair a flat roof, and over the past few decades new sealing products have come on the market that guarantee leak-free protection for a number of years. At Bell, we offer our own no-leak guarantee on any flat roof repair job in Sandy Springs. The most common signs of problems on your Sandy Springs flat roof include:
Chipped or torn areas
Separated seams in the covering
Discoloration from mold and fungal growth
Blistering
Gaps where the covering has shrunk from the edges.
These are just a few examples of our wide range of flat roofing services. You can call us anytime for questions about your specific needs.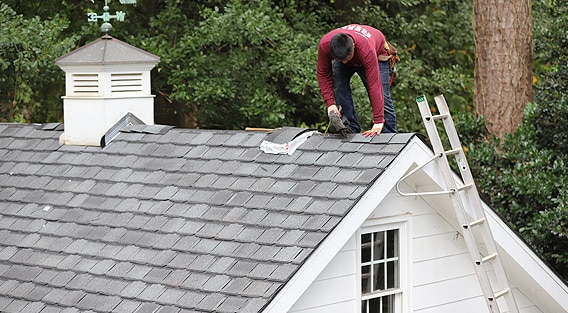 Sandy Springs Flat Roof Repairs
Our Sandy Springs flat roof replacement, installation and repair experts know how to solve any of these problems, and we'll come out and perform a roofing estimate on your property so you know exactly what is needed. Bell Roofing has been the premier choice for flat roof installation and repair in Sandy Springs and the Atlanta metro area for years now, so we know you'll be satisfied with our work.
Call Us for a Quote Today!
The team at Bell Roofing is GAF Master Elite-Certified and have installed hundreds of commercial and residential flat roofs across Sandy Springs and the Atlanta area. We provide solutions tailored to your particular needs, and we offer warranties on our workmanship. When we're done, we make sure that every bit of debris is cleared from your property. Our job is to be the best we can be for you. If you need a flat roof replaced, installed, or repaired in Sandy Springs, ring the bell! Give Bell Roofing a call today and let's get your roofing project underway.
Our Location
Testimonials
I had an excellent experience with this company. They did a great work stopping a leak I had when we got heavy rain. There roofing crew fast and efficient, I would recommend this company to everyone. Everyone for sales to roofing crew very helpful to sure all of the process went well.

Bell Roofing was amazing to work with. They maintained a good schedule, communicated expectations clearly, and all work was top notch. We needed a full redecking, and all costs were clearly outlined. Even with the extra work and additional dumpster, the work was completed on time, and the property cleanup was impeccable.

My mother recently used these guys to get a new roof installed and she is so happy with their excellent work and the time and care that they spent working with her. The roof has totally revitalized her home and we are happy campers. Bell comes highly recommended by our family. Ten star service.