COME VISIT US
2531 BRIARCLIFF ROAD NE, SUITE 109
ATLANTA, GA 30329
Sandy Springs Roofing Services
Changing the oil, checking the tire pressure, swapping out the air filter, and replacing the spark plugs—unless you have an electric car that drives itself, you spend a lot of time maintaining your vehicle, sometimes DIYing it and sometimes dropping it off to a professional. Most of us don't realize our homes need as much attention as the '49 Mercury Granddad passed down. But it's true—a house has more parts than an automobile, and it doesn't get stored in a garage for protection against the weather. And of all the parts of your home that take the biggest beating, the roof has to withstand all the elements nature throws at it.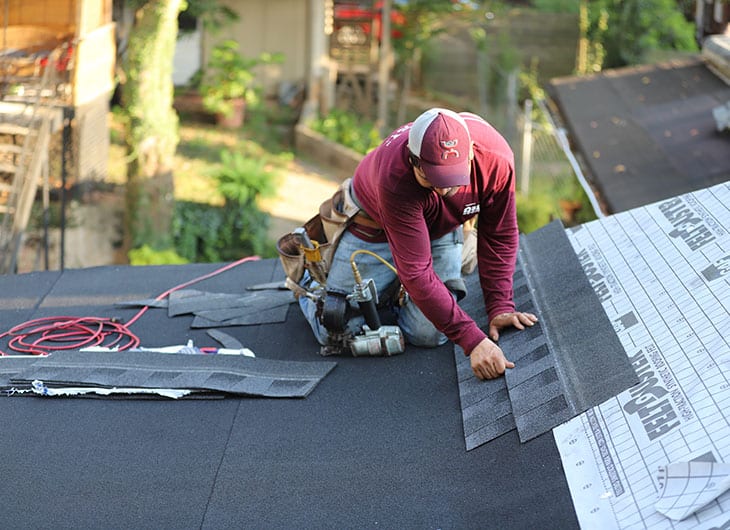 In the same way your car requires maintenance, the roof of your Sandy Springs home also needs service. Shingles need to be checked to make sure they're all firmly attached and that some didn't blow away to Cobb County in the last storm. The flashing around the vents and the chimney needs to be routinely inspected to mitigate any leaks that may have occurred during foul weather and the changing of the seasons. Rain gutters and downspouts need to be checked to ensure the proper drainage of stormwater off your roof. Our Sandy Springs roofing services can strengthen your home's protection against unnecessary damage.
There's a lot that goes into maintaining your roof in Sandy Springs to avoid costly roofing services at sometime down the road. The GAF Master Elite certified professionals at Bell Roofing have been your best bet for roofing repair and installation in Sandy Springs since 1998. With over 8,000 jobs notched into our belts, we've learned a thing or two about getting the job done right the first time.
We offer complete roofing services in Sandy Springs:
Roof repair and restoration
Roof teardown and new installation
Residential, commercial, and industrial roofing
Shingled—pitched and sloped roofs
Flat roofs—TPO and modified bitumen systems and coatings
Roof maintenance plans
Skylight installation
Roof framing and additions
Gutters and gutter guard installation
If you need it, we'll do it, and we'll guarantee our work. We offer free quotes with fair and honest pricing. We maintain our professional certifications and are dedicated to ensuring we provide you with the finest roofing services in Sandy Springs, the kind of service you won't get from another roofing outfit. Contact us today and schedule your free estimate. When it's Bell done, it's Bell guaranteed.