COME VISIT US
2531 BRIARCLIFF ROAD NE, SUITE 109
ATLANTA, GA 30329
Commercial Roof Installation Services in Marietta

When you want excellence for a commercial roof installation project for your Marietta-area business, you won't find any better craftsmen than the GAF-certified experts at Bell Roofing. We are well known throughout the greater Atlanta area for our proficiency in crafting resilient roofing solutions. We construct our flat roofs to last for decades, protecting your business from severe weather and climatic changes from one season to the next. Our expertise in PVC, TPO, and EPDM single-ply membranes, in combination with torch down and modified bitumen asphalt membranes, ensures long-lasting protection against the harshest conditions.
---
Our Premium Flat Roof Options
Thermoplastic polyolefin (TPO) is a formidable, UV-resistant membrane used in our commercial roof installations in the Marietta area. Its impressive 81.9% reflectivity ensures the rays of the sun are reflected to maintain a cooler interior environment within your building. Our commercial flat roof installation specialists in Marietta adhere to precise installation techniques to provide you with a sturdy, cost-efficient roofing solution that ensures steadfast performance for decades.
Polyvinyl chloride (PVC) shares many of the protective attributes with TPO. It creates a strong, single-ply membrane over your roof, and offers notable UV resistance. Notably, PVC is resistant to grease, which makes it a preferred choice for businesses such as restaurants, where the integrity of your roof could be threatened by cooking exhaust.
In some instances, a total roof replacement might not be necessary. If the structural integrity of your roof is still intact, we can effectively treat your current membrane with a silicone or acrylic coating. Either solution provides excellent waterproofing capabilities to extend the lifespan of TPO, PVC, or metal roofs. They also offer an economical solution as a way to prolong the life of your roof.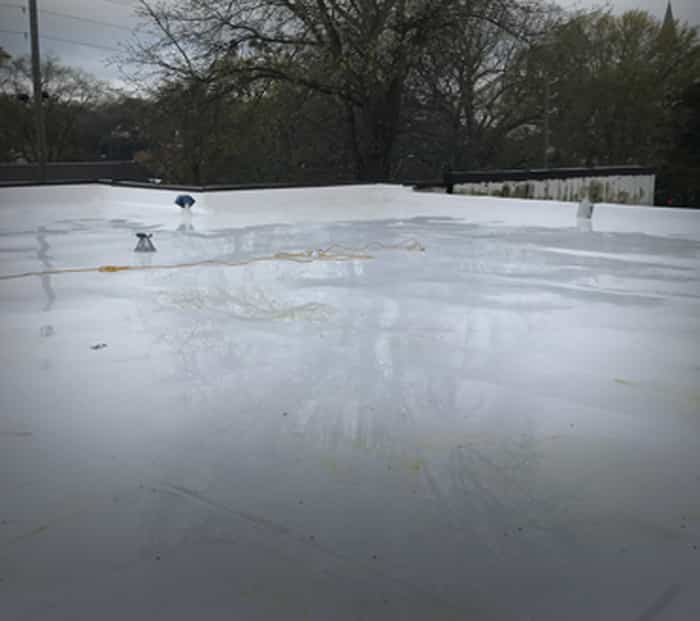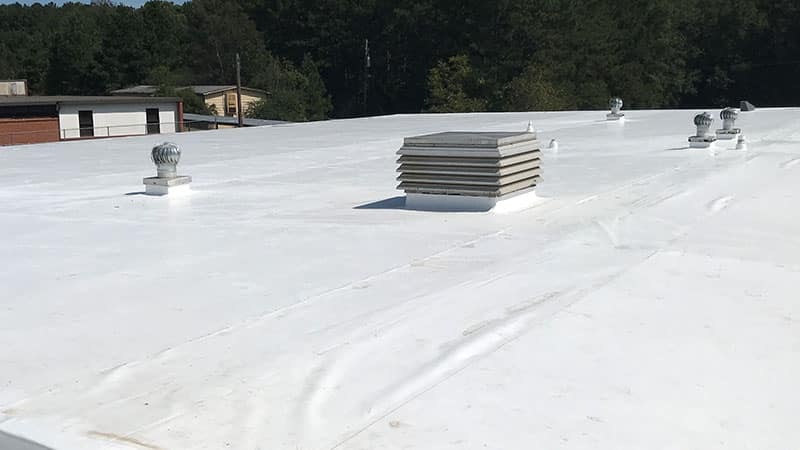 The Bell Roofing Commitment
At Bell Roofing, we fully appreciate the need for minimal disruption to your daily commercial activities. We are committed to ensuring a safe, seamless installation process. We focus our attention on the safety and comfort of your business, staff, and clientele.
For us, roofing goes beyond simply providing shelter and safeguarding the inventory and other assets of your business. It's also about establishing trust in the resiliency of our materials, trust in our craftsmanship, and trust in a conscientious company that stands by its work. For commercial flat roof installation in Marietta, you won't find another roofing contractor with our superior skills, our dedication to quality, and our more than two decades of roofing experience.
Don't compromise your business when it comes to selecting a roofing contractor in Marietta for your commercial roof installation. Choose Bell Roofing—the trusted name for superior commercial roofing services in Marietta. Contact us today to schedule your complimentary flat roof inspection. We are ready to help your business stand even more solidly.
GET A FREE FLAT ROOF INSPECTION

PLEASE FILL THE FORM BELOW
A representative will contact you to set an appointment at your convenience. We provide free estimates with no high-pressure sales. A Bell Roofing technician will visit your property to check your roof.