COME VISIT US
2531 BRIARCLIFF ROAD NE, SUITE 109
ATLANTA, GA 30329
BELL DONE
BELL GUARANTEED
WARRANTIED
COMMERCIAL ROOFING SOLUTIONS
5000+ ROOFS BUILT
IN ATLANTA AREA
GAF
COMMERCIAL ROOFING SOLUTIONS
BELL ALSO PROVIDES
MULTI-FAMILY ROOFING
WARRANTIED
COATING SYSTEMS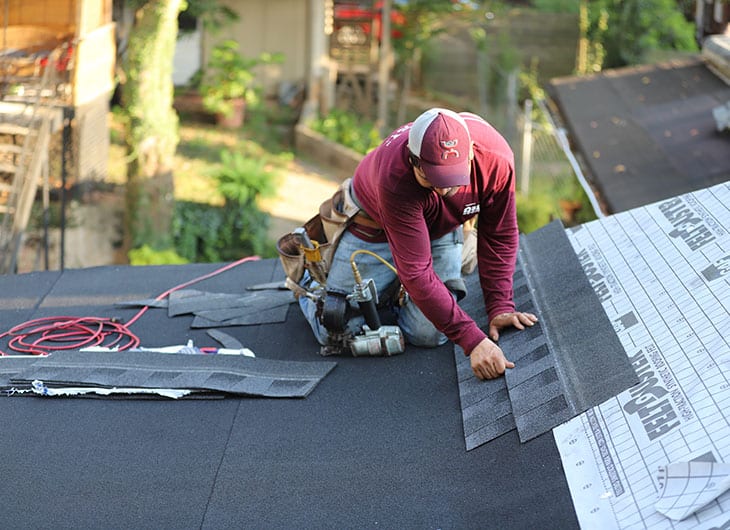 If you need a roofer in Marietta you can trust, you're in luck. Bell Roofing is the best in the business and has a long history of success, making our team an industry favorite. You can trust our team to not only treat your roof the right way but to ensure you're proud of your home.
The Bell Roofing Guarantee
We promise you will be 100% satisfied with our work. That's the Bell Roofing guarantee, and it's just one of the reasons we're the best roofer in Marietta!
To make sure our work is top-notch every time, we always provide detailed roof inspections to our Marietta customers. We carefully follow the manufacturer's specs, use prime materials, and document all of our work. Our work includes a no-leak guarantee, along with roofing system warranties of 1, 10, 20, and 25 years.

Why Bell Roofing
To build lasting relationships with our customers in Marietta, our roofers stand by our core principles and always put quality first.
BELL
HONESTY
We document all of our work so you can see every step of the process and hold us accountable. When working with our roof replacement and repair contractors in Marietta, you can expect to see all of our work before completing a job..

BELL
SAFETY
All of the roofing technicians and team members at Bell Roofing are fully insured. So you can enjoy your home to the fullest, we make sure to remove all debris, materials, and nails after completing work.

BELL CARES FOR
GREEN
To reduce our impact on the environment, our Marietta based roof repair and replacement contractors recycle shingles and gutters.

BELL'S UNIQUE
CRAFTSMANSHIP
Bell Roofing has installed over 8,000 roofs since 1998. The craftsmanship at Bell Roofing is recognized as the top 2% of all contractors across the United States. We've also been a GAF Master Elite member since 2017.